Christmas Wonderland in the Pines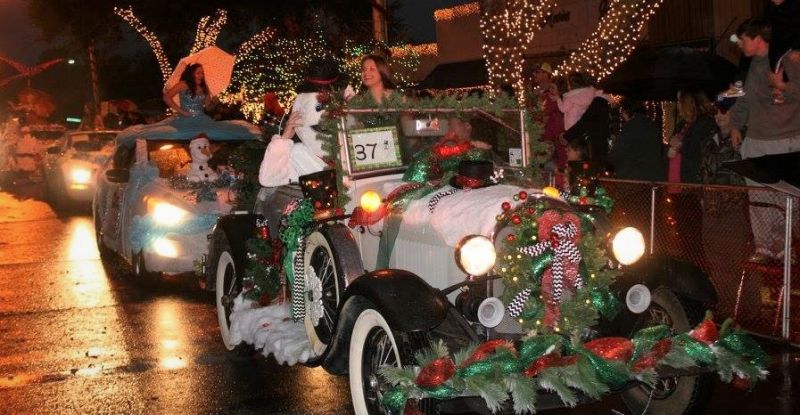 "Jonesboro's 'Christmas Wonderland in the Pines' is just another bright and shining example of why there's really no place quite like the South to usher in good tidings and Yuletide cheer." - Sourthern Living Magazine
Every year on the last Saturday of November, the annual Christmas Wonderland in the Pines ushers the holiday season into the town of Jonesboro, Louisiana. With over 5 million Christmas lights dotting our small town, visitors flock from all over the state and region to experience our charming southern community.
Tentative Schedule
Grand Marshal Coffee and Ceremony - 10:00 AM in the Community Room in Town Hall.

The Grand Marshal is presented a Proclamation from the Mayor declaring the day in their honor. Family, friends, and guest of the Grand Marshal are especially invited to attend the ceremony. All visitors and members of the public are also invited to attend. Business casual attire is encouraged.

Official Turning on of the Christmas Lights - 12:00 PM

Following the Grand Marshal Coffee, the over 5 million Christmas lights are officially turned on for the remainder of the holiday season.

Annual Christmas Wonderland in the Pines Parade - 4:30 PM

The annual parade starts along Cooper Avenue, turns at Third Street, comes down Allen Avenue toward the Courthouse and turns onto Jimmie Davis Boulevard, turns at Hudson Avenue, and finishes on Seventh Street. The judges' table is located on Jimmie Davis Blvd. at the steps of the Courthouse.

Annual Firework Show - approximately 7:00 PM

Once dark, the firework show will start. The fireworks are shot from the Public Works Department, under the supervision of the State Fire Marshal. The fireworks can be viewed from nearly anywhere in the city.
SEASON-LONG ATTRACTIONS
Over 5 Million Christmas Lights

After the Grand Marshal Coffee and Ceremony, the Grand Marshal and Mayor officially "flip the switch," turning on Jonesboro's over 5 million Christmas lights throughout the city.

Jonesboro's Christmas Park (located at the corner of Fourth Street and Polk Avenue)


Every Friday and Saturday after the parade, Santa is at the Christmas Park and available for pictures from 5 PM to 9 PM until December 23rd.

Horse Carriages through the Town


Nightly until January 1, horse carriage rides are available throughout downtown to see Jonesboro's over 5 million Christmas lights. You can pick up a horse carriage ride at the Christmas Park. (These rides are available for $10/adult and $5/child. These rides are provided by a private individual(s) or company.)
---